News, Articles
Read time: 4 minutes
Back-to-School with Agvance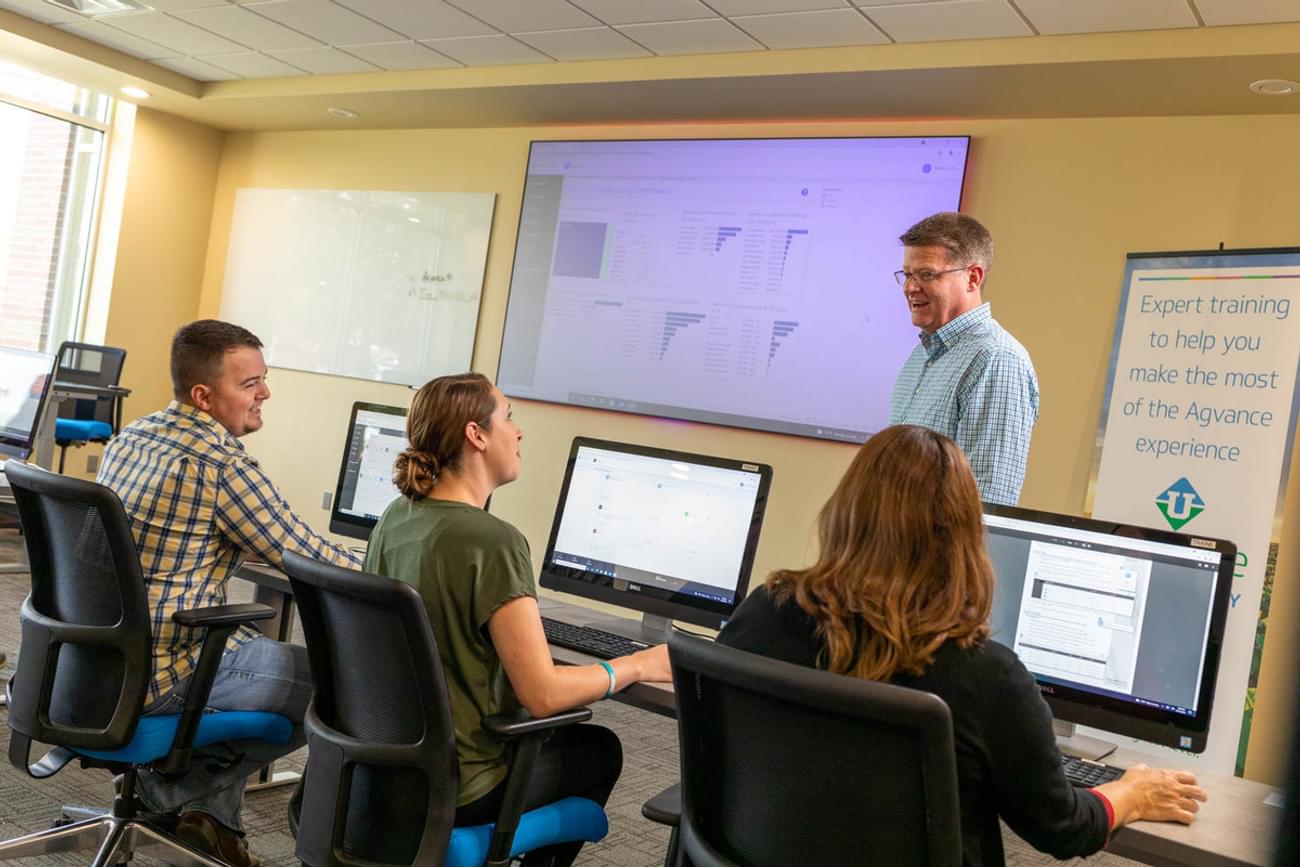 As students across the country begin a new school year, it is an appropriate time to consider educational opportunities to improve your Agvance and Agvance SKY knowledge. Learn how to expand your Agvance potential by better understanding the full suite of software and application solutions from Agvance. Are you using new features, reports, and the full capabilities of the software? Have you incorporated the use of Agvance SKY applications to optimize workflow? Agvance University offers businesses educational options to suit each learner. The instructor-led courses are a popular educational choice to consider for both new and experienced staff.
Dedicated Time to Learn
Instructor-led Agvance University courses are 2-day(maximum) learning opportunities. An Agvance expert instructs the entire course. With a scheduled course, eliminate the temptation to procrastinate and concentrate on understanding best practices in Agvance and Agvance SKY. Customers attending courses report that they appreciate the scheduled, dedicated time to step away from their typical busy work schedule and learn.
Practice Makes Perfect
Agvance University courses are interactive, hands-on, include time to learn, and time to practice typical job scenarios. The instructor is there to answer questions throughout the process. The active learning process is a necessary component for retention and assists learners in implementing new ideas at their business location. One learner from West Central Ag Services commented, "I really appreciated the format of this class, the manual was well laid out and easy to follow. Then… teaching us, showing us, and having us practice was very beneficial." An attendee from Big Valley Ag Services adds, "the hands-on exercises are very helpful, as well as the visual."
Add New Skills
After finishing a course, students keep the reference materials and refer to them when integrating newly learned skills into daily tasks. Agvance has numerous customizable features and, even experienced Agvance users continually comment on the new skills they gain by attending a course. One learner attending Grain Financials from Scranton Equity says, "this was a great class and [we] learned a lot of things we can do… that we did not[previously] do on a daily basis."
More Reasons to Attend
Read more about what Agvance University course attendees are saying about their experience at an instructor led Agvance University course.
"Everything was easy to follow, all questions brought up were answered. Instructors were friendly and receptive; handbook was extremely helpful." – Anonymous, attending an Analytics and Web Authoring course
"Great course. Learned a lot. Was surprised at the [number] of different ways you can create reports, graphs, etc. This is going to take a lot of practice to get this program down. This will help me get started." – Western Consolidated Coop attending an Analytics and Web Authoring course
"The class was well taught. Ample time was given to complete each section." – Harvey's Fertilizer & Gas attending an Analytics and Web Authoring course
"The course was excellent, even doing online, in-person may have been more beneficial but don't be afraid to offer more online classes it is much easier to attend." – Castlewood Farmers Elevator attending a Grain Daily Operations course
"The instructor did a great job explaining everything, answering questions, & showing me how to input any info or look up any reports." – Argyle Co-op Warehouse Association attending a Grain Daily Operations course
"I thought the training was good and felt I gained valuable insight into Grain processes." – Growmark,Inc attending a Grain Daily Operations course
"Always great to get a refresher training course. After 28 years, these training sessions are still necessary! Thank you." – Scranton Equity attending a Grain Daily Operations course
"I really enjoyed the online format and would be more likely to attend more trainings in the future virtually rather than in person." – Alton Grain Terminal attending a Grain Financials course
"Everything was great and I strongly recommend it!" – Maple River Grain attending a Grain Financials course
"The course was very informative & helpful to me to see the flow of things." – Scranton Equity attending a Grain Financials course
"The instructor did a great job. We covered a variety of tasks and despite using Agvance for over a year now - mostly AP, I learned many things. I liked how we did a task and then went to run the report that showed the result of the action. It was a good overview of the process from start to finish and very motivating to streamline and insist CONSISTENCY back at home. Thank you!" - Barrett Farm Supply attending a Location Bookkeeper course
If you have any questions, please complete the form below to request additional information.
‍