Accounting
Financial Performance Optimized for Ag
Get the benefits of a full service accounting platform created just for ag! Keep your books organized and up-to-date, catalogue your customer information, seamlessly place and track orders and so much more.


Contact Us To Get Started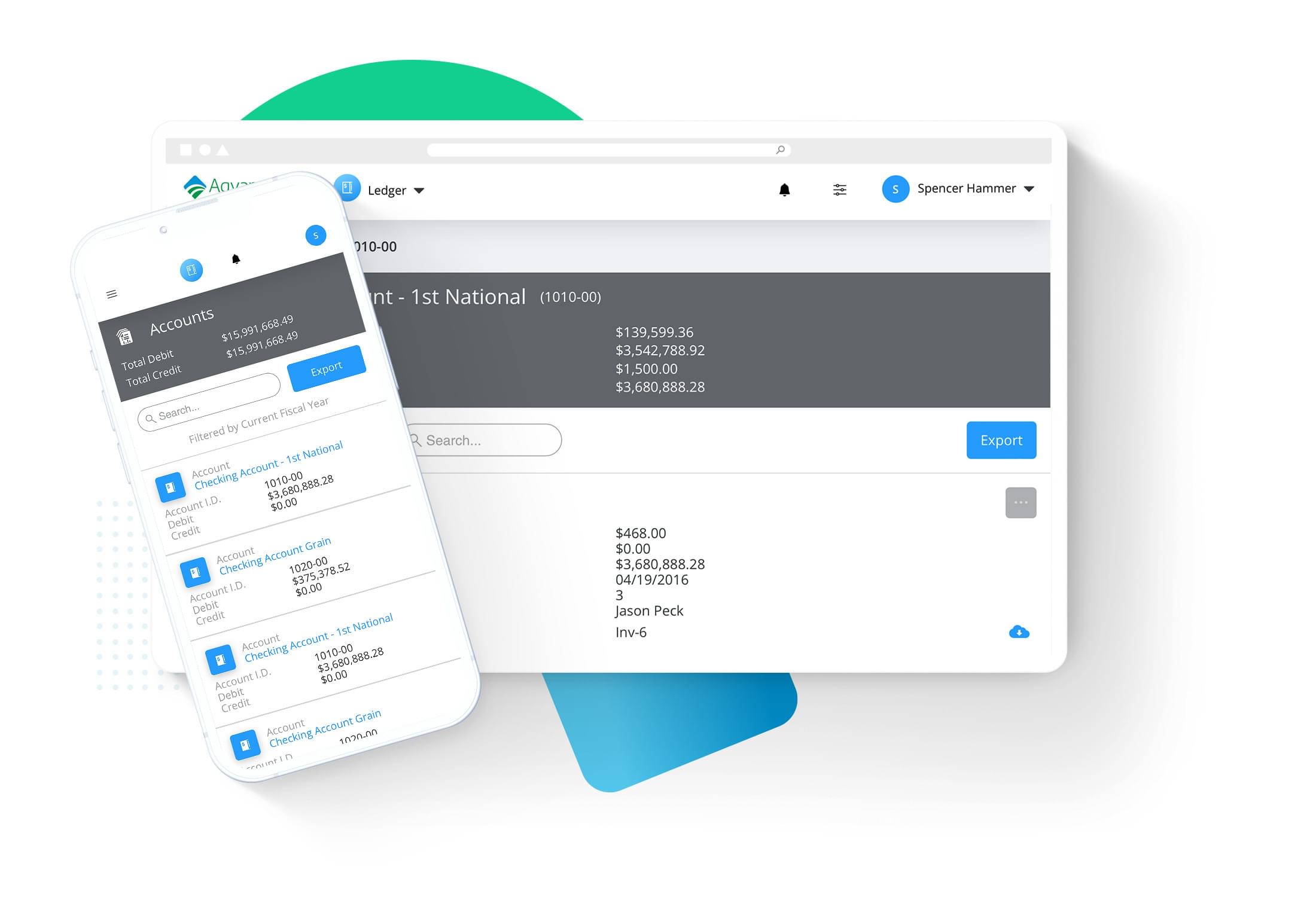 Agvance Accounting Intuitively Works the Way You Work
Agvance Accounting combines intricate, industry-specific functions with sophisticated analytics, forecasting, and reporting. It's the powerful financial hub of our leading ag retail ERP, connecting all aspects of your operation in one system to streamline workflow and drive business performance.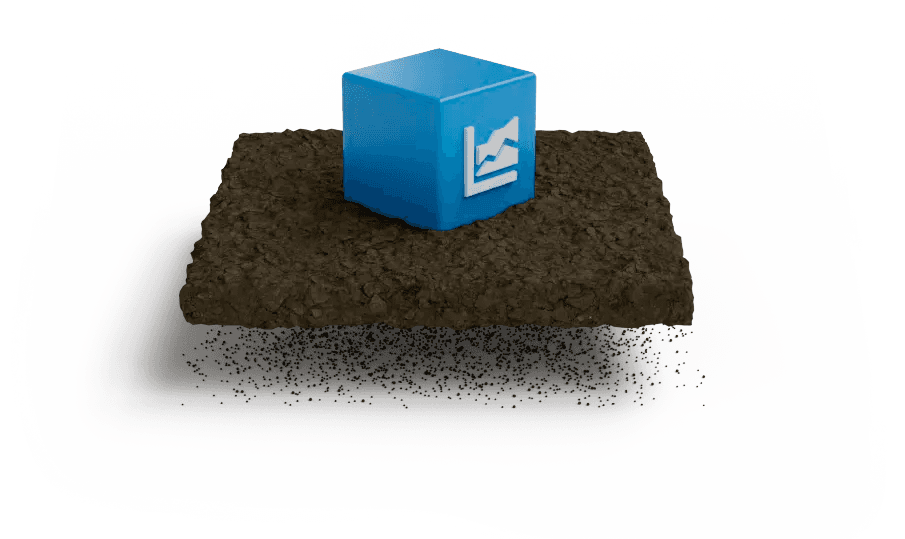 It's Time to Connect All Segments of Your Agribusiness
Integrated Workflow
As the hub of Agvance, our accounting system connects every aspect of your business seamlessly. From the field to the warehouse to dispatch to your financial performance, you'll find everything you need to run your operation efficiently and profitably.
Easy Prepay Management
Agvance takes the guesswork out of prepay with the ability to address every billing situation, making it easy for your customers to understand their payment status with each invoice.
Timely Inventory Control
Track your inventory costs by the second. Agvance Accounting was created for the unique aspects of the ag retail industry: where a product is ordered and sold months before it's received.
Flexible Billing
Manage all the special requests customers throw at you. Create splits, discounts, and other details at the line-item level easily during billing.
Built-In Forecasting
Agvance takes the burden out of budgeting and forecasting. By comparing your current behavior and transactions with market trends, you get evidenced-backed predictions on future performance.
Visual Data
Make quick, informed decisions with an intuitive, interactive dashboard that brings your data to life. Monitor performance, growth, trends, outliers, and more with easy-to-render charts and graphs.
B2B Integration
Integrate supplier data and transactions with Supplier e-Link, creating efficiencies and billing accuracy that allow you to focus on your customers.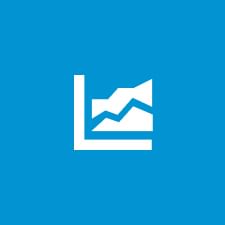 Bill Broekhuizen
"Agvance has helped us to be more efficient and given us the ability to grow without additional labor costs. The various accounting reports and the ability to export them have given us much more timely information to help us manage inventory and profit margins and provide better and more useful information to our sales staff."
Farmers Cooperative Elevator Co.
Agvance Ledger: Simplify Your Accounting
Agvance Ledger is simplified accounting, built for agribusiness. Organize and track all your accounts, including balances, transactions and more. View account details, filter transactions by date, and create journal entries for customers, vendors and other general accounts.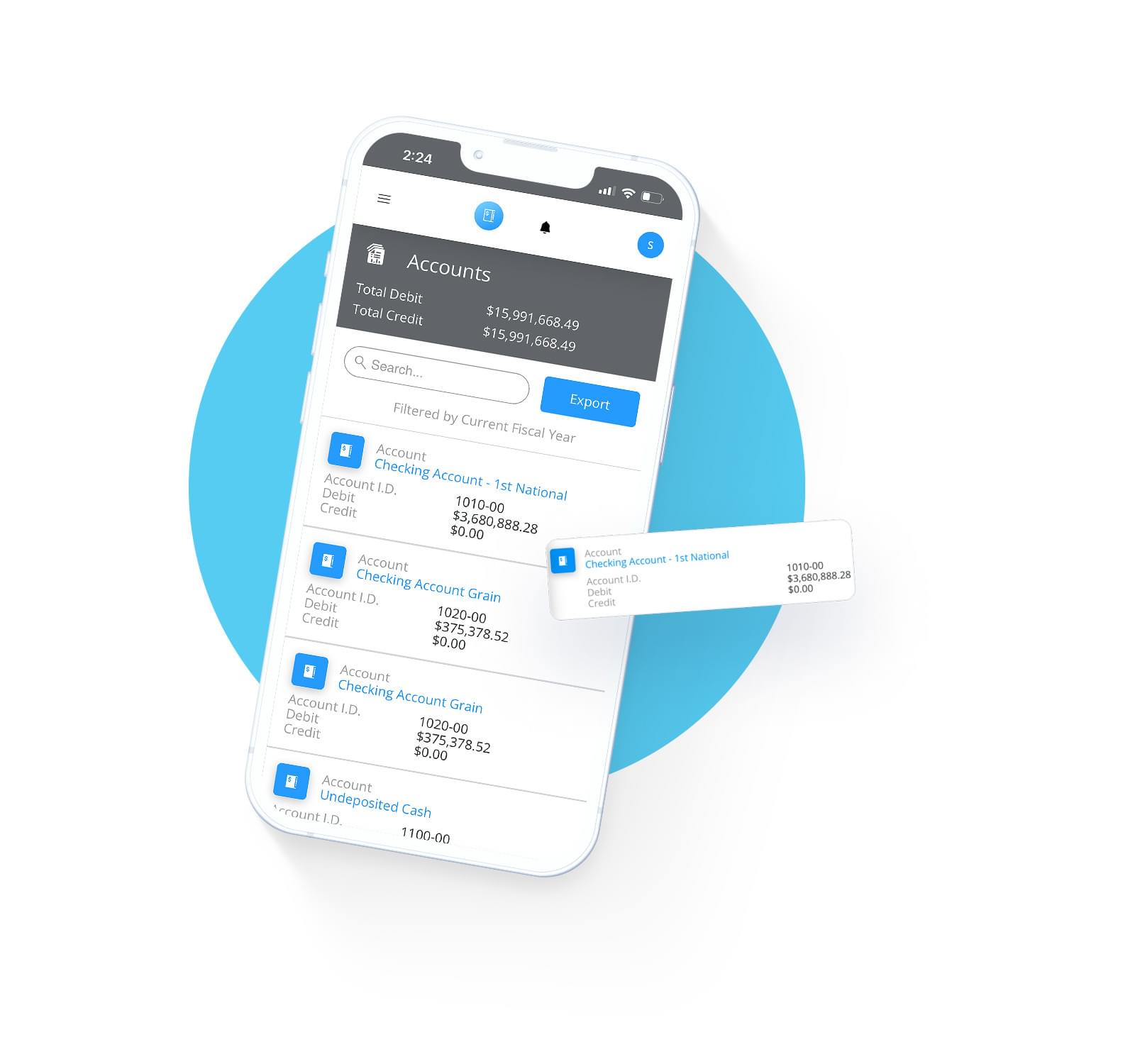 Agvance Order: Order Entries with Ease
Agvance Order is your automated billing assistant, making order management seamless. Create orders, manage tickets, search by field or customer name, perform instant credit checks and much more – all designed for agribusiness and optimized for use in the field on mobile devices.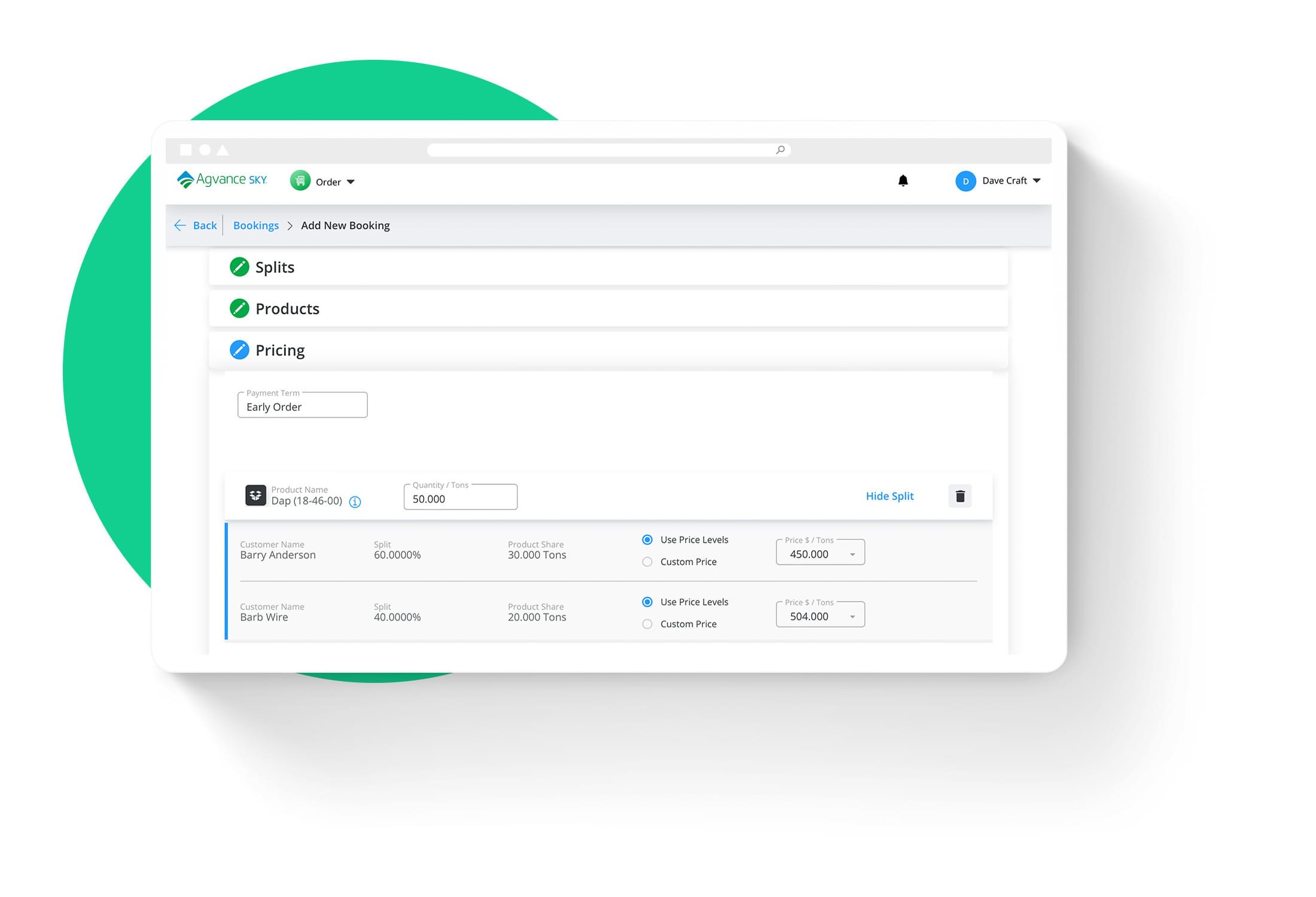 Agvance Customer: The Whole Customer Story
Whether looking for customer account details or assisting customers with questions, Agvance Customer is the place to start. Quickly find information such as customer-specific sales activity, past due invoices, balances, split arrangements, and details about each field location. Place orders, accept payments, and set the status of a plan to a blend all within Customer. With customer account information easily available, Customer improves the overall customer service experience for your growers.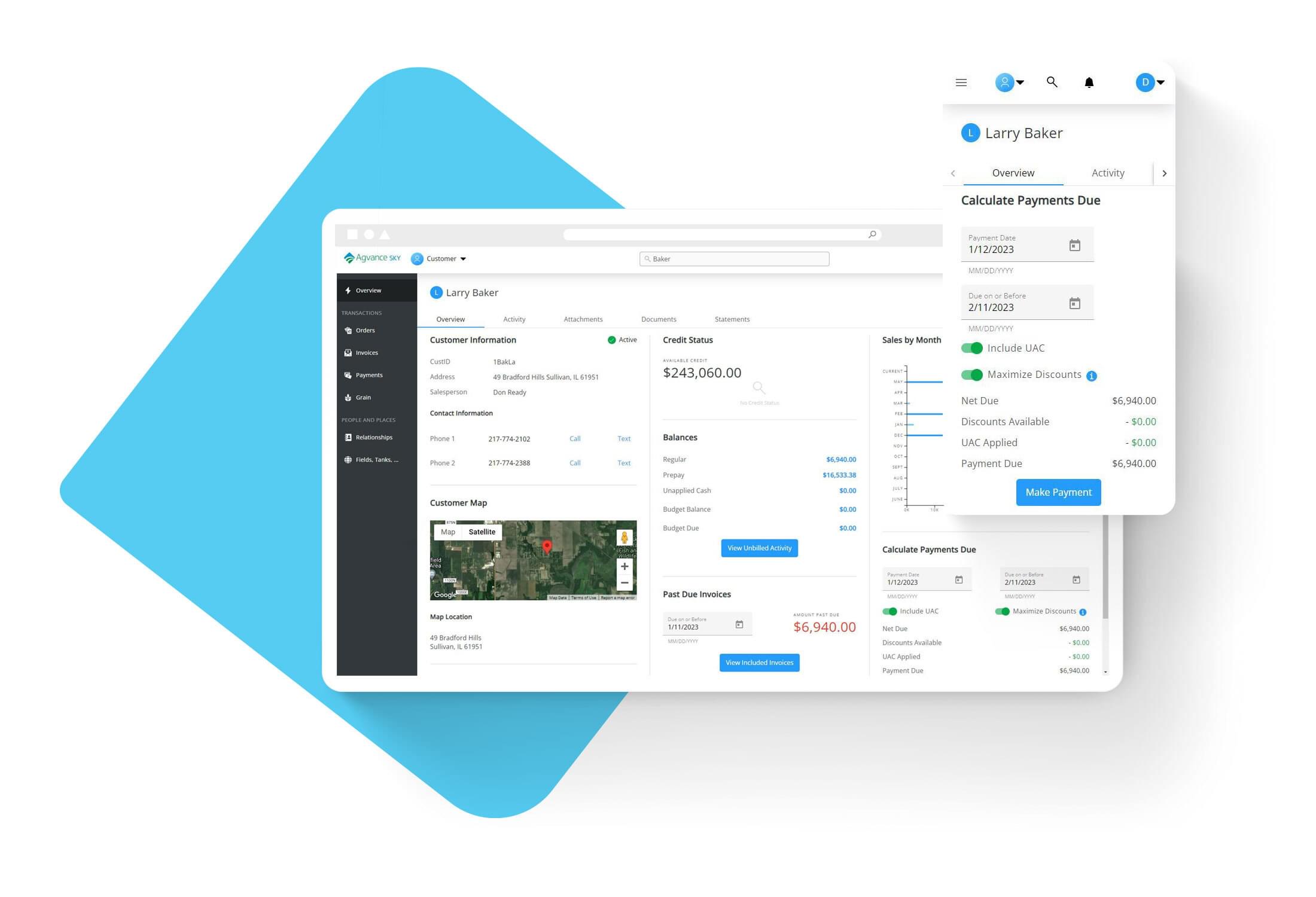 Agvance Vendor: Accounts Payable Management
Agvance SKY Vendor brings details for processing accounts payable into an easy-to-navigate web application that integrates with other Agvance apps. Manage all of your vendor bills and payments. Add or edit bills, make payments, or work with purchase orders. Filter and search lists of vendors and export information.
Read More
Analyze Your Data
Capturing, managing and understanding your data is key to making more informed business decisions. Agvance Analytics automatically documents and maintains your data across all Agvance products, including Grower360, and allows you to create meaningful reports for your business and more.
See Analytics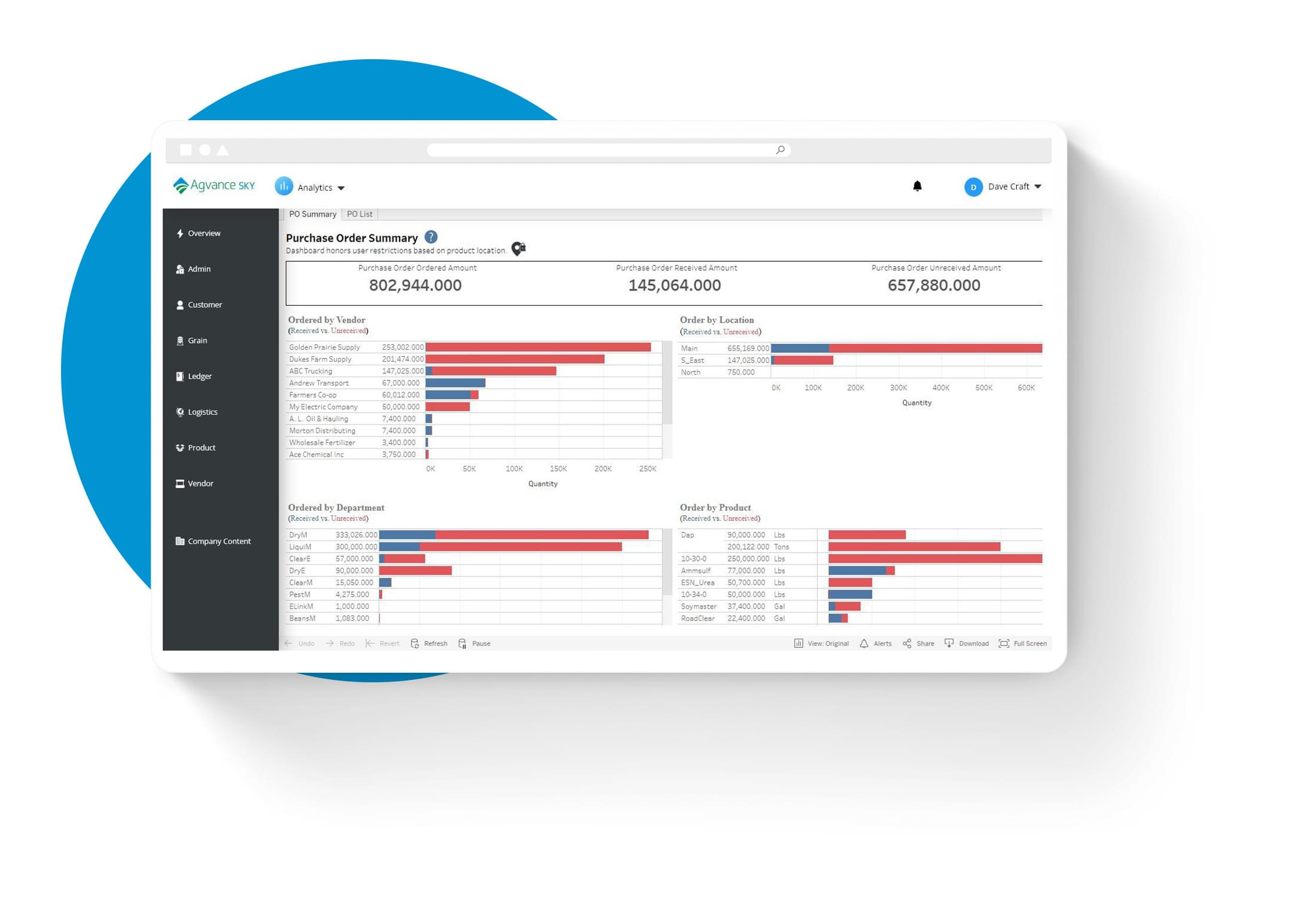 Software Solutions Designed for Your Ag Retail Business
Agvance is a comprehensive software suite built to be progressive, open, and scalable. Its strength is in how we tailor it to your company's needs. When you choose Agvance, you're not just getting a proven and integrated process for customer success, you're getting a trusted partner and advisor to help you understand and make the most of your investment.
Talk to an Agvance Expert Today
Unlock the power of a complete network built around your business model. Find out how Agvance is designed to generate profits by optimizing ag retail operations.
Contact Us