Crop Scouting Trends to Improve the Yield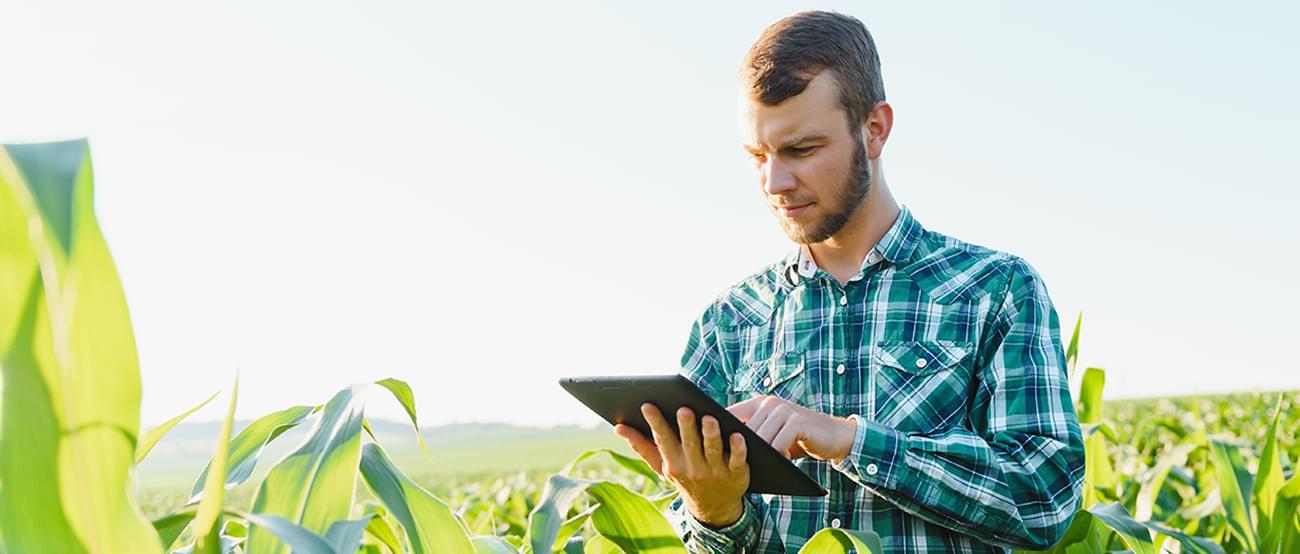 With spring planting season moving along, plans for field scouting are on the horizon. Scouting to record pests, diseases, and weeds during multiple growing stages helps your farmers determine the overall crop health and improve the yield of each field. Scouting has come a long way and today it is fundamental to manage crop scouting with web and mobile applications. Current trends in crop scouting can be divided into three categories: digitalized scouting, layers and photos, and useful reports.
Digitalized Scouting
Equipping the sales and agronomy team with digitalized scouting saves time and improves accuracy. The technology trend in this area is utilizing companion web and mobile mapping applications to bring the scout report into a digital format. Data is collected and documented, ultimately benefiting the whole team plus the grower. Ag retailers are looking to view shared data including customer farm and field details, boundaries, and more. Cloud-based access provides team members with needed information to quickly make important crop management decisions.
With Agvance, the scouting workflow is handled through the SKY Premium Mapping and Mobile Mapping apps. Using the Mobile Mapping app, the salesperson or another scouting team member can select multiple conditions, enter observations, and collect data by point, tracking, freehand zones, or the whole field. Pressure ratings can be recorded, and photos captured for each observation. Also beneficial in scouting, additional Agvance apps can optionally be used such as SKY Order for creating a scouting event work order so that a Delivery Ticket can be assigned in SKY Dispatch by a dispatcher, and a scout can use the Apply app to view notes and driving directions to the field.
Layers and Photos
The latest tech-driven mobile scouting capabilities are colorful and interesting. Agribusiness leaders are looking for the best resources, useful data for creating recommendations, and more ways to give farmers an overall picture of their fields.
With Agvance SKY Mapping, staff can add new data elements for each field, define boundaries, and add already available imagery layers to fields including aerial imagery obtained from unmanned aerial vehicles (UAVs)/drones, manned aircraft/planes, or satellite imagery. Users of SKY Mapping also import shapefiles, upload or draw field boundaries, and define management areas.
With the Agvance Mobile Mapping app in hand, the scouts select pests or diseases from a library of choices and photos to assist with the identification of pests, weeds, insects, and plant diseases. Detailed information entered by the scout denotes the pest and its location on a map. Using the Mapping Mobile app, the collected crop health data automatically syncs to web-based SKY Mapping and is immediately available to the team.
Useful Reports
When it comes time to make agronomy recommendations, the most helpful data is easily accessible to become part of the overall analysis for the grower. While tracking key field information is essential for today's agronomists and ag retailers, having the reporting tools to share the valuable data that was collected is equally important. Reports show just how valuable your agribusiness scouting service is to your growers and helps to form better connections with customers.
In SKY Mapping, two scouting reports are available as PDFs to print or email directly to growers. The reports display a recap and details of scouting events per field to help keep growers informed of field events throughout the season.
Learn More
With digitalized scouting, the identification of crop health and documentation is more accurate, and data is available right away for important crop management decisions. To ask a question or schedule a demonstration of how Agvance can improve your scouting, please complete the form below.