Tips for Marketing Your Grower Portal to Your Agribusiness Customers

Whether you are launching a grower portal for your customers for the first time or encouraging enrollment in an existing access point for growers, marketing effectively ensures that growers are aware of its benefits. How you decide to get the word out and help your agribusiness grower portal enrollment and usage flourish is unique to each business. You know the customers for your business best. The marketing push will be most successful when created by your business in a way that fits just right for your customers.
We have compiled a few suggestions based on the reported success of other Agvance user companies that have promoted Grower360 to their customers. When creating a message to promote the grower portal, keep the communications clear and concise. Focus on easy access and highlight the benefits of what the grower portal can do for the grower. You will want to call attention to benefits especially attractive to your customers such as paying online, self-service reports, convenience, and a straightforward view of invoices.
Many companies start with a slow rollout of Grower360 by announcing and assisting small groups at the company's chosen pace. By getting your VIPs or frequent contacts on board, they can help you spread the word and generate momentum to increase enrollment numbers. Other companies announce Grower360 to everyone at once with a general welcome email. Both methods work.
The infographic below offers marketing ideas in 4 categories: consistent brand image, website and email marketing, print marketing, and personal conversations. Follow these tips to effectively market your agribusiness grower portal and help growers take advantage of its many benefits.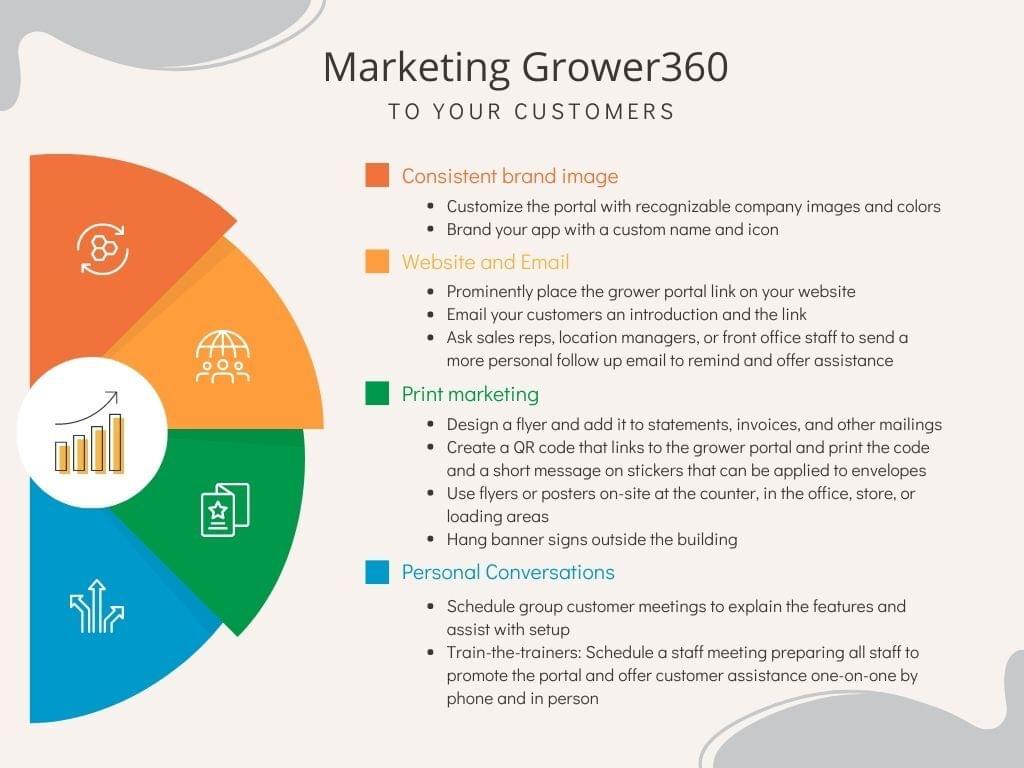 Download the PDF: Marketing Grower360 to your Customers
You can learn more about Grower360 on our website and the Agvance Help Center. If you have questions about Grower360 please use the form below to contact us.